This week has seen some truly amazing spring weather around the MadLab including everything from tornado threats and sustained high winds to flash flooding and dense fog.
April showers, as they saying goes, will bring May flowers – so we don't mind too much as long as the power stays on and the trees don't fall on the roof!
In cyberspace things are also picking up it seems. For about the last three weeks we've seen declining severity and frequency of spam storms. However this week has been different.
Beginning about 3 days ago we've seen a surge in new spam storms and in particular a dramatic increase in the use of hacked web sites and URL shortener abuse.
There is also another notable change in the data. For several years now there has been a pretty solid 24 hour cyclical pattern to spam storms. This week we're seeing a much more chaotic pattern. This and other anecdotal evidence seems to suggest that the new spams are being generated more automatically and at lower levels across wider bot nets.
We used to see distinct waves of modifications and responses to new filtering patterns. Now we are now seeing a much more chaotic and continuous flow of new spam storms as current campaigns are continuously modified to defeat filtering systems.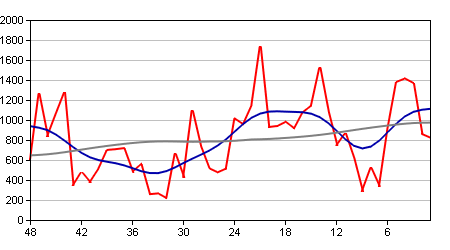 There's no telling if these trends will continue, nor for how long, but they do seem to suggest that new strategies and technologies are coming into use in the blackhatzes camps. No doubt this is part of the response to the recent events int he anti-spam world.
Microsoft takes down Rustock spam botnet
DOJ gets court permission to attack botnet
In response to the blackhatzes changes my anti-spam team and I have developed several new protocols and modified several of our automated friends (rule-bots) to take advantage of new artifacts in the data. The result has been a dramatic increase in the creation rate of new heuristics, reduced response times, and improved preemptive captures.
With these changes, changes in blackhatz tactics, and new sniffer engine updates coming along I'm going to be very busy watching the blinking lights to keep track of the weather outside the MadLab and in cyberspace.